By Dr Orna Farrell, PI #Openteach project, assistant professor Dcu connected
This is the final post in our #Openteach blog series…"the final countdown" in the words of 80s pop sensation Europe!
The blog series has been a great way to capture and document the thoughts, feelings and experiences of the participants and facilitators of the first run of the #Openteach course.
Many thanks to everyone who contributed to the blog series:
#1: Reflections on #Openteach: A blog series– Orna Farrell
#2: Supporting engagement in online classes– Anne Markey
#3: More than one way to skin a cat– Caitriona Ni She
#4:The Search is Over- Robert Hickey
#5: OpenTeach and FET. Fit for purpose?- Carrie Archer
#6: Learning online to teach online – openly of course! – Sandra Flynn
#7: When OpenTeach and Lockdown meet- Gennady Egorov
#8: Michael and the curious case of the online classroom- James Brunton
#9: Reflections on the #Openteach course– Tracey Harrington
#10: 'I'm Smiling here' When the participants become facilitators- Sinead Eccles
#11: Online or Face to Face, that is the question!– Anne Morrisey
#12: #OpenLearn: How many headsets must a man put on before you can call him a man? -Eamon Costello
#13: Caitriona's reflections on the project– Caitriona Ni She
#14: The student perspective, Sam's reflection– Samantha Trevaskis
Final Thoughts
We are in the final part of the project now, this week we issued all completers with their #Openteach badge, through the Badgr open badge platform.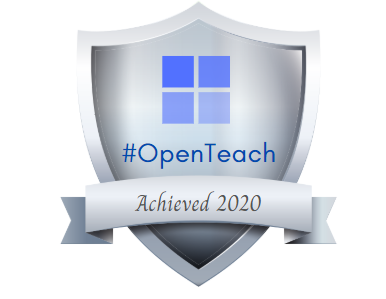 The last year working on the #Openteach project has been an inspirational and exciting experience. We hope to continue on the work of the project with another run of the course in summer 2020 and the creation of an open textbook of the #Openteach course…watch this space and keep in touch.